Need some extra practice? Come out and try our ball machine!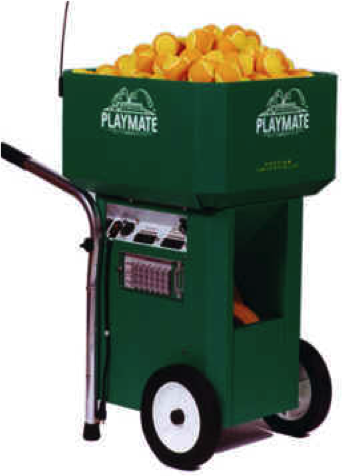 Let our tennis professional, Monica Sgritta, show you how to use the ball machine! After your tutorial, you decide how much you use it!
Rates:
1 Year Key unlimited use – $100
Hour rate- $20
Half hour rate- $10
Ball machine rules and regulations
Anyone reserving and using the ball machine must be a member in good standing with ARA
Members must complete a tutorial on ball machine given by our Head tennis pro before reserving and/or using the ball machine.
Members may only use ball machine on court #1
Children under the age of 6 may NOT use the ball machine. All other juniors under the age of 16 must always be accompanied by and under constant supervision of an adult member.
The minimum age to use the ball machine without an adult present is 16 years of age.
Non-members may not use the ball machine unless accompanied by a member. Regular tennis guest fees still apply on top of ball machine rental fees.
Members must use caution while using the machine. Members need to report any malfunctions or accidents associated with ball machine to the office immediately.
If it rains or courts become wet, stop immediately, pick up the balls and return machine to the shed. Wet balls ruin the machine and are useless once they are wet. If the courts are wet from previous rain, ball machine may not be used. Never put wet balls in the machine.
A maximum of 4 people can use the ball machine at any one time.
The ball machine has a maximum of a

one hour

reservation for either a single person or group of people.
A player may only use the balls that are in the machine- a player cannot add their own balls to machine.
Payment must be remitted to the tennis office or manager's office before leaving the facility each time the machine is used.
All balls must be picked up and placed back in machine and machine be unplugged and put back in the shed before leaving the court- and in the time allotted within your reservation. Please be courteous of the time and other members.
Proper tennis etiquette must be adhered to when using the ball machine. There shall be no foul language- proper tennis shoes and attire must be worn.
Any improper use of machine or behavior on the court while using the machine can result in a member not being allowed to use the machine in the future.